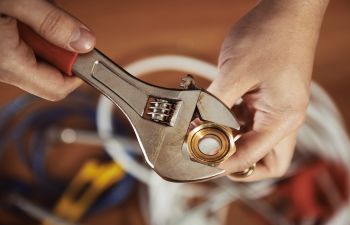 Your plumbing system is one of the most important systems in your homes. Just like any other sophisticated operation, it has rules that must be followed if you want it to run smoothly. These habits, whether you realize it or not, may be setting you up for a disaster and require emergency plumbing services.
Are you guilty of any of these bad plumbing habits?
Pouring too many chemicals and cleaning products down your drains. Although using a drain cleaner may seem like an effective and affordable solution for your pipe clogs, it is not best for your pipes if used too much. If you have a septic system, you need to be especially careful about pouring any harsh chemical or cleaner down your drain, including chlorine bleach, paint and even anti-bacterial soaps – this disrupts healthy bacteria in your septic tank and could result in a sewage backup.
Damaging hidden plumbing pipes. In the excitement of your DIY home improvement projects, don't neglect to consider where your plumbing pipes might be when you nail, screw or cut into your drywall.
Joining pipes of two different metals. If you ever venture to connect two plumbing pipes, there are some distinct rules of thumb to follow. Never join dissimilar metals, such as copper and steel, as this will cause corrosion and eventual leaks. Hire a professional plumber for guarantee of a successful pipe union.
Misusing the kitchen drain. Are you pouring grease down your kitchen sink? This is an open invitation for clogging and further plumbing problems. Also be careful about flushing flour, rice, potato peels, coffee grinds and eggshells down your kitchen garbage disposal.
Letting the toilet be your trash can. There is not much grace on this one. By just flushing one improper item down your toilet (anything other than toilet paper and human waste), you may end up with an embarrassing overflow.
At Metro Septic and Plumbing, we educate homeowners on the habits that may be damaging their plumbing system. If you are finding out a little too late and you already have a plumbing problem, you can trust us for prompt and professional solutions. The best way to avoid costly repairs, however, is to prevent problems in the first place. Make sure you explain proper plumbing care to all members of your family, especially young children.