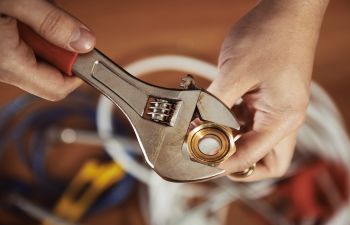 When it comes to DIY plumbing projects there is a lot that can go wrong. If your plumbing repair leads you to a bigger problem than you started with, don't fret . . . you are not alone. Homeowners often times decide to tackle small plumbing problems that seemingly are a quick fix. Here are the most common plumbing mistakes homeowners make.
Believing you can make a quick fix isn't always the case: First rule of thumb, never start a project of any kind, especially plumbing where you don't give yourself ample time to discover the root of the problem. Being in a rush has been the demise of many plumbing projects. When it comes to fixing a plumbing problem, if you don't know the root of the problem (where the clog begins, how big the clog is or what is causing the clog) it is best to call in a professional.
Buying the wrong size plumbing fixture almost always leads to disaster. Many times a homeowner will run to the hardware store only to pick up the wrong type or incorrect size fixture and try to do a make shift fix. If you don't know the difference between copper and galvanize steel, or PEX vs. PVC a mismatched connection can lead to dangerous corrosion. Don't be afraid to go back to the store several times if necessary to make sure you have the right product for the job.
Installing a plumbing fixture with the wrong kind of tools can lead to a plumbing disaster. Trying to jimmy rig a plumbing installation with a tool that kind of works is not the same as using a proper plumbing tool. Know this, if a plumbing fixture is not installed properly you are asking for trouble.
Many times homeowners will take apart a plumbing fixture only to forget exactly how to put it back together. When this happens people almost always end up calling a professional. If you don't know how to put something back together you could be setting yourself up for disaster. Plumbing professionals are just that, experienced professionals; we do this every day. We are experts at plumbing and can repair, fix or replace things in your home quickly and effectively.
When in doubt, call Metro Septic and Plumbing, we are happy to help you with any "quick fix" or fumbled plumbing attempt. We promise to save you time, frustration, money and protect you from future disasters from DIY plumbing mishaps.