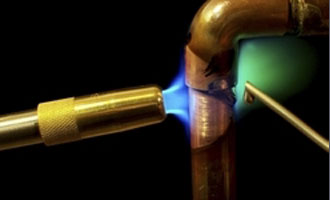 A faulty gas line is a serious matter. If left undetected, your family's health is at risk. While a professional plumber can properly repair a gas line issue, it is crucial that you know how to recognize a gas leak in the first place. A poorly maintained or ignored gas line can also damage your home appliances and landscaping.
Here are four ways to ensure your gas line is in good working order:
1. Use Your Senses

The most obvious warning sign of a gas leak is the foul "rotten egg" smell. However, you may also feel differently if gas is leaking in your home. Some people report feeling dizzy, tired or nauseated. In addition, your ears may pick up on the gas leak. A hissing or clanging sound near the gas line area is a signal that you need to call a professional.

2. Examine Your Surroundings

Gas leaks may also present physical signs in your yard or home. For example, do you notice plants or other vegetation suddenly dying near the gas line? Is there extra condensation on the window of your home, especially the one closest to the gas line? These are warning signs that you have a potential leak.

3. Monitor Gas-Powered Appliances

If you have appliances inside or outside your home that run on gas, it is important to monitor their operation on a regular basis. If one of these appliances is making weird noises or stops working properly, you should consider your gas line as a potential cause.

4. Check Your Bills

Last but not least, take a look at your gas bill and compare it to past months. If your expense has suddenly skyrocketed without explanation, you should get a professional to examine your gas line promptly.
Schedule Gas Line Repair in Cartersville
If you live in the Cartersville area, you can trust Metro Septic and Plumbing to handle your gas line repair with excellence. When suspicious of a gas line leak, there are certain steps you should follow immediately. Please give us a call and we will walk you through the process so that you and your family are kept safe until the gas line is repaired.