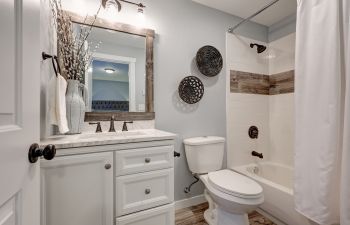 According to most interior design and real estate experts, a bathroom remodel has a life span of about five to ten years before it becomes outdated. However, few people have the wherewithal to remodel their bathrooms every five to ten years. Remodeling your home is not always fun and can be disruptive to your life and your family. However, for many, the end result is well worth the hassle. Updating your bathrooms can increase the value of your home as well as its functionality and enjoyment. It can also be fun and exciting if it is approached with the right attitude and realistic expectations.
If your bathroom or bathrooms scream 1988, maybe it is time to consider a bathroom remodel? So, what can you do to make your bathroom remodel go much easier? The answer is to find an experienced, highly qualified plumber to handle the job. With every remodel comes unexpected wrinkles. If you do not have a plumber who is highly experienced, this can add significant time and expense to your project. An experienced plumber can help identify the potential problems and pitfalls and put contingency plans into place to mitigate the expense and time needed to get your project back on track.
Another thing you can do to make your bathroom remodel go more smoothly is to pick out all of your materials (sinks, faucets, toilets, cabinetry, countertops, light fixtures), before your project begins. If you go ahead and pick everything out and order all the needed materials, you can avoid stalling your project due to unmade decisions and backorders. Take care when making these important decisions as this represents a large majority of your cost and will ultimately determine the end result of your project.
If you are considering putting your home on the market and are trying to decide whether or not to update your bathroom before listing your home, talk to a Realtor who specializes in your area of town. He or she can give you advice on whether or not to do a bathroom remodel based on your home and the market in your area.