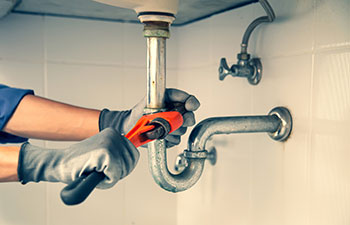 Do you frequently battle insects and rodents in your home despite your pest control efforts? You may want to check your plumbing. The truth is, many pests are drawn to moisture, including crickets, lice, silverfish, termites, roaches and rats! So if you have a undetected plumbing leak in your home, you may be giving these pesky creatures an open invitation without even knowing it.
For the most accurate leak detection methods, hire a plumber who uses camera inspection technology. However, if you want to do a quick check around your house on your own, here are some places to cover:
Leaky Faucets – Do your sinks or shower heads have a steady but slop drip after they are turned off? What about the area around the handles, does it stay wet or dry?
Basement Plumbing – If you have a finished basement or crawl space, check the ceiling. Are there any brown stains that could signal a leaky pipe?
Water Utilizing Appliances – Your dishwasher and washing machine use gallons of water each day. All it takes is a simple clog in the water line or a single malfunctioning part to produce leakage issues.
Water Heater Maintenance – How often are you getting your water heater checked? To avoid leaks and resulting pests, schedule an annual plumbing visit to flush out this fixture.
Plumbing leaks don't immediately cause an infestation of insects and rodents. Typically, pest problems are seen when the plumbing problem and extra moisture goes unnoticed and unresolved for a period of time. To ensure your leaks are detected and repaired in a timely manner, call Metro Septic and Plumbing. This can be a simple investment that preserves your plumbing system while also keeping pests out of your home.