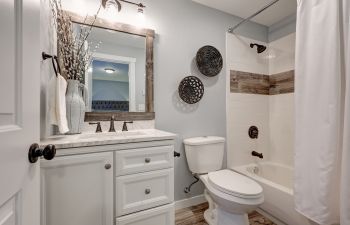 Whether you want to protect the environment or lower your monthly bill, water conservation is an excellent idea. There are many ways to cut back on water usage in your home. However, one of the best places to start is your bathroom.
Here are some easy changes you can make to your bathroom that can help you start saving big:
Use an aerator on your sink faucet.
Install a specialized shower head that uses less water.
Change out your old toilet for a low-flow or ultra-flow toilet.
Schedule a plumbing visit to ensure there are no hidden leaks.
More About Your Toilet
Upgrading any of your bathroom fixtures to an energy saving variety will make a difference. However, your toilet is one of the most contributing factors to your water use in the bathroom. First, you'll need to know how old your toilet it. If it was made before 1992, it wasn't designed to accommodate the national law mandating that toilets use 1.6 gallons of water or less per flush. Toilets that meet this requirement are considered "low-flow "toilets. According to the Massachusetts Water Resource Authority, changing from a toilet built before 1992 to a low-flow toilet can help cut water use in the bathroom by up to 50%.
If you want to take your water conserving goals to the next level, you can invest in an ultra-low-flow toilet. True to its name, these use even less water, 0.8 gallons for liquids and 1.6 for solids. Ultra-low flow models have a dual-flush option, which ensures you are not using more water than necessary when you flush your wastes.
At Metro Septic and Plumbing, we welcome the opportunity to help homeowners save on their water bill. We can perform a full plumbing inspection and make recommendations as we see fit. If you need a professional to install your new toilet or other fixture, we can handle that too!