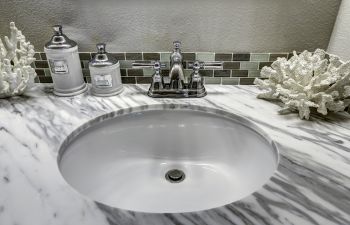 Are your faucets up to par? While it may be tempting to just ignore an pesky or stubborn faucet in your home, you should know that even a small faucet leak could waste hundreds of gallons of water per year. The cost savings alone should motivate you to seek faucet repair in a timely manner.
A visible leak is only one sign of a damaged or malfunctioning faucet. There are other reasons to seek professional attention for your faucet. Here are some common signs that your faucet may be in need of repair or replacement:
Dripping
Whether it is every second or every minute, if your faucet is turned off and continues to drip, this is an indication that you either have high water pressure in your pipes or a faulty valve.
Water Damage
If you don't see an actual drip, there may be visible signs of water damage at the bottom of the faucet or underneath your sink.
Handle Issues
Handles that won't stay tight or don't work properly can also warrant faucet repair or full replacement. In addition, if your handles squeak, you may have a worn out faucet stem that needs to be lubricated.
Spitting Faucet
Does your faucet spit water instead of producing a steady stream? You likely have a clogged aerator, which is the screen that covers the tip of the faucet.
Unusual Sounds
You shouldn't be hearing noises from your faucet when you go to wash your hands or clean the dishes. Different faucet problems may produce different sounds. For example, a screeching noise can mean you likely need to replace the rubber washer that has hardened over time. Clanking can be triggered from the pipes, and it is important to have a professional diagnose this problem.
Rust and Mineral Deposits
Rust and mineral deposits are signs of faucet damage and common reasons for faucet repair or replacement. Mineral deposits can wreak havoc on your faucet if left alone.
If you are concerned about the condition of your faucet, call a plumbing expert from Metro Septic and Plumbing. While most faucets last a decade or more, it is possible to suffer faucet damage at any point in time. For the sake of your convenience and your wallet, seek faucet repair sooner rather than later. The operation of your home faucets should never be a source of stress or frustration. Let us fix it today!