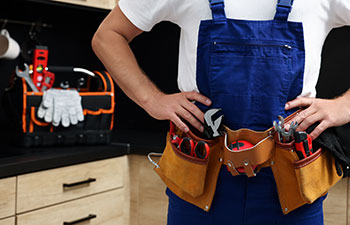 If you need to hire a plumber, you will be faced with a long list of companies that claim they can do the job for you. Unfortunately, not all plumbing companies are the same. Considering that your plumbing system is one of the most important operations in your home, you need someone you can trust. Here are some criteria to keep in mind when hiring a plumber:
License: You'll need to first make sure the plumber is licensed. Each state requires a special licensure to prove expertise in their field. A license greatly increases your chances of receiving quality service.
Insurance: Hiring an insured plumber means mistakes and accidents are covered during the job, and you won't be paying for future problems if they were to occur.
Experience: Ask about the plumber's experience, as this should be heavily weighed when making your decision. A plumber who has encountered years of plumbing problems is more equipped to resolve your own concerns. You should also ask for a list of references to make sure their past plumbing services were positive and successful for the customers.
Rates: You should always seek quality work over the cheapest services. However, make sure you are getting a competitive price within the market before you hire a specific plumber.
Knowledge: A good plumber displays his or her knowledge of the problem by identifying your problems and explaining the reasons in detail. Your plumber should be able and willing to help you avoid the same issues in the future.
Guarantee: Choose a plumber that stands behind their work. Ask what kind of guarantee or warranty they offer on their services.
Estimate: It is important to choose a plumbing company that offers upfront, written estimates before any work begins. Some plumbers offer free estimates.
Appearance: Last but not least, hire a plumber that is tidy and professional in appearance. If they take their appearance seriously, they are more likely to take your plumbing repairs seriously and minimize their mess while working.
Metro Septic and Plumbing is proud to uphold all of these standards for customers in the Marietta area. Never be afraid to ask thorough questions when hiring a plumber, as this is someone you are trusting and paying to come into your home and operate on an important system.